Grande Rio
Grande Rio has excellent records and has the great support of celebrities
Grande Rio is among the newest schools on the block and yet one of the most outstanding members in the Special Group, tapping into native Brazilian myth and folklore which form the core themes of their Carnival
parades
. This
samba school
has come very close to victory in all the preceding 10 years. It represents an outpost town in Rio de Janeiro named Caxias and associates itself with a lot of celebrity support in its parades. Grande Rio's dances are unique with creative
costumes
that leave people bemused and surprised.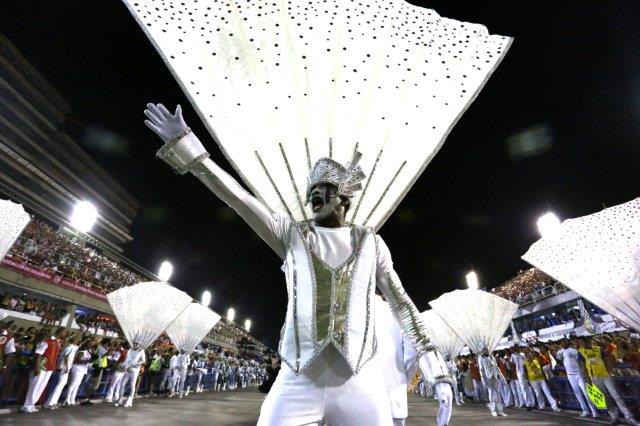 History
Grande Rio's foundation was laid on March 22nd of 1988 with the support from politicians, the people from the city of Duque de Caxias, other
samba schools
and those associated with samba. The school had its origins in the carnival street band from the neighborhood. The school paraded for the first time in the First Group of samba schools in 1990.
Identity
Grande Rio's samba school's colors are red, green and white with the crown as its symbol. Its godmother samba school is
Salgueiro
.
Performance
Despite being one of the newest on the block Grande Rio managed to make its mark with its impressive performances and it is also known to thrive on a bit of controversy. After its founding in 1988, the school promoted to the first group with a second place in the 1989 parade which had the Sacred Myth of Ifé theme. Some of its themes over the years include Clear Waters for a Black King, In the Moon World, The Saints Africa Didn't See, To feed the Body and the Spirit is good, etc. Its dancers are known for turning heads and standing up for their ideas. Grande Rio the youngest of all samba schoolsand so are its performers who practice the fine rhythm, dance, and musical shows all year round for the Carnival.
Carnival Information 2018
| Group | Day of the Parade | Parade Time |
| --- | --- | --- |
| Special Group | February 11 | 02:20 |
Theme:
"Vai Para o Trono ou Não Vai?"
Composer:
Edispuma, Licinho JR., JL Escafura, Marcelinho Santos, Gylnei Bueno e Hélio Oliveira.
Interpreter:
Emerson Dias
Samba Enredo
"O show não terminou"vou desfilar nos braços do meu povo"outra vez vou ficar maluco beleza""agora aguenta coração""alegria, alegria" era o tom da canção,sou o velho guerreiro, um tropicalista,eu não vim para explicar, vou te confundirse eu buzinar… leva o troféu abacaxi"ê baiana"… o seu balancê me encanta,roda e avisa, vem pro meu samba,"quero vê-la sorrir, quero vê-la cantar"se é "maria ou joão" deixa pra lá"e por falar em saudade"o preto e o branco da televisãonas ondas do rádio, tocando amoresa luta pelos "bastidores"minha florinda, a flor mais linda, desabrochou"chacrinha", morada que batiza o meu sucessosão tantas "emoções" eu te confesso,sou abelardo, aquele abraço,recife… em surubim nasceu o rei menino,no frevo dessa gente arretada,vou me acabar no galo da madrugada"meu iáiá", quando a sirene tocar"a massa" toda cantar"vai para o trono ou não vai?"Vem chacrete o bumbum rebolareu vou brilhar na tv ouvir de novo dizer"oh terezinha! Oh terezinha"vai começar mais um cassino do chacrinha"oh terezinha! Oh terezinha"a grande rio é o cassino do chacrinha
It's Carnival Time
Enjoy specials deals for Rio Carnival 2019