Imperatriz
Imperatriz has great winning records and brings excellence to its parades like no other
One of the oldest
samba schools
in Rio with a history of more than 50 years, Imperatriz Leopoldinense is well-known for its futuristic concepts such as the one time flying parade on the Avenue. Similar to some other old schools names like
Portela
, Estácio, Imperio Serrano, it draws inspiration from its history of famous percussionists. Imperatriz has been a winner of
Rio Carnival
eight times.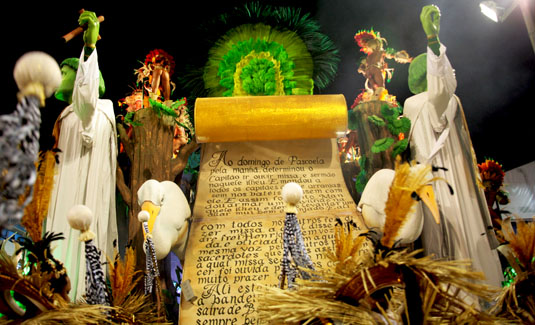 History
The Grêmio Recreativo Escola de Samba Imperatriz Leopoldinense was founded on March 6th 1959. It is believed that the samba-school´s name was dedicated to the Leopoldina's railway line and this was because the founders wanted that the school's name represented all of Leopoldina's suburbs. In 1959, it received honourable mention at the ornamentation contest of Rio de Janeiro city, after which it steadily claimed success and recognition with its brilliant performances. The school advanced further since the arrival of the great President Luiz Pacheco Drummond.
Identity
Samba school Imperatriz's flag has 11 golden stars signifying Leopoldina's neighbourhoods and its colors are green and white, considering the colors of its Godmother Samba School – the Império Serrano. The school's symbol which is an indication of the first reign's crown, that of the Empress Leopoldina who governed Brazil.
Performance
Samba School Imperatriz Leopoldinense has won thrice in a row, in 1999, 2000 and 2001 and is the current record holder challenged only by Beija-Flor. It has a history of themes such as ancient healing rites, the lack of health in the Middle Ages, and great names in Brazil health science.
Its huge success is attributed to its technically exceptional performance. The School's longstanding Carnival Designer, Rosa Magalhães makes eccentric yet extremely appealing fairy-tale like imaginative creations. It has become famous for introducing innovation, choreographies that bind the dramatic themes and youngsters connected to the community.
Carnival Information 2018
| Group | Day of the Parade | Parade Time |
| --- | --- | --- |
| Special Group | February 12 | 02:20 |
Theme:
"Uma Noite Real no Museu Nacional"
Composer:
Jorge Arthur, Marinho do Ponto, Julinho Maestro, Marcio Pesse e Piu das Casinhas.
Interpreter:
Arthur Franco
Samba Enredo
Onde a musa inspira a poesiaa cultura irradia o cantar da imperatrizé um palácio, emoldura a belezaabrigou a realeza, patrimônio é raízque germinou e floresceu na colinaa obra-prima viu o meu brasil nascerno anoitecer dizem que tudo ganha vidapaisagem colorida deslumbrante de vivierbaailam meteoros e planetasdinossauros, borboletasbrilham os cristaiso canto da cigarra em sintoniarelembrou aqueles dias que não voltarão jamaisvoa tiê, tucano e araraquero-quero ver onça pintadaos tambores ressoaram, era um ritual de fépara o rei de daomé, para o rei de daoméa brisa me levou para o egitoonde um solfejo lindo da cantora de amonecoa sob a lua e o serenoperfumando a deusa vênus sem jamais sair do tommarajó, carajá, bororóem cada canto um herdeiro de luziaflautas de chimus e incassopram pelas grimpas linda melodiaa luz dourada do amanheceras princesas deixam o jardimos portões se abrem pro lazerpipas ganham aresenconstros popularesdecretam que a quinta é pra vocêgira coroa da majestadesamba de verdade, identidade culturalimperatriz é o relicáriono bicentenário do museu nacional
It's Carnival Time
Enjoy specials deals for Rio Carnival 2019