Portela
The traditional and innovative Portela
Portela is Rio's oldest samba group and a premier school with an absolute record of 21 titles including 7 consecutive championships. After going through a rough period in the 1980s, it managed to retain itself in the Special Group mainly because of its glorious past and popularity only to reclaim its original grandeur later on. Portela's foundation, their innovative spirit and brilliant performances have helped them in winning many
Rio Carnival
contests. Its Carnival
parades
are graced by many international celebrities including singer Ricky Martin and super model Nomi Campbell.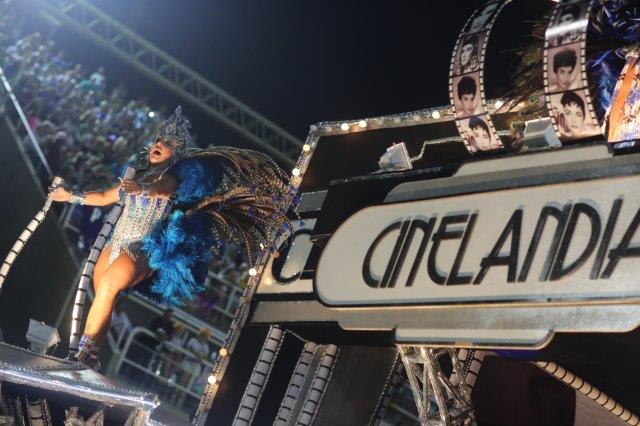 History
Portela took its first step in 1920s when
samba schools
as they are known today did not exist. Paulo Benjamin de Oliveira proposed the formation of a novel and distinct samba band that was to really symbolize the entire neighborhood of Osvaldo. With support from friends, in the year 1923 on April 11th, Portela samba school was born. The school changed many names as its identity evolved in the coming years and in 1935 they finally adopted the name of Portela.
Identity
The colors of Portela samba school are blue and white with a symbol that has remained unchanged since the start of the school - a giant eagle. This eagle shines high in a symbol of honor and pride for those great performers that have lead Portela to victory.
Performance
Legendary Portela Samba School has led the way in many aspects of the carnival. It was the first group that used decorations, introduced the opening wing and was the first to use ropes. Portela is known for choosing beautiful and charismatic Queens and having the strongest Drum sections. These innovations along with a fabulous team of composers helped this samba school win an unbelievable 11 titles, of which 7 were in a row between 1939 and 1953 creating history in the samba musical genre in Brazil.
Carnival Information 2018
| Group | Day of the Parade | Parade Time |
| --- | --- | --- |
| Special Group | February 12 | 23:05 |
Theme:
"De Repente de Lá pra Cá e Dirrepente Daqui pra Lá"
Composer:
Samir Trindade, Elson Ramires, Neyzinho do Cavaco, Paulo Lopita 77, Beto Rocha, J. Salles e Girão.
Interpreter:
Gilsinho
Samba Enredo
Vamos simbora povo vencedorcontar a mesma históriasou nordestino , estrangeiro, versadoreh eh eh viola…vem do arrecife oio azul cabra da pesteno doce do meu agreste, querendo se lambuzaroi o mar maré de saudade , oi o marpedindo paz a javé, perseguido na féo imigrante veio trabaiáoh saudade que vai na marépassa o tempo e não passa a dore um dia pernambuco seu irmão reconquistouluar do sertão, ilumina…pra quem deixou esse chão, triste sinaô cumpadi em seu peito leva um dócada um em seu destino e a tristeza dá um nóvixi maria lá no meio do caminhotem pirata no navioo pagamento não foi ouro nem foi prataessa gente aperriada foi ,seguindoô gira ciranda, vai a chuva vem o sol ,deixa cirandarentra criança, homem, muiéno abraço dessa terra só não fica quem não queré legado, é união, é presente, igualdadeé "noviórque" pedestal da liberdadea minha águia em poesia de cordel22 vezes minha estrela lá no céulá vem portela é melhor se segurarcoração aberto quem quiser pode chegarvem irmanar a vida inteirana campeã das campeãs em madureira
It's Carnival Time
Enjoy specials deals for Rio Carnival 2019