União da Ilha
Fun is guaranteed with União da Ilha
União da Ilha is a suburban
samba school
that made itself known and appreciated for putting on joyful, simple and inexpensive
parades
. With its trade mark of fun and simplicity, this 'gremios' of Rio de Janeiro is considered to be one of the most pleasing and happy. Even without many resources, it has made a show of determination and established a good communication with the public and is regarded as one of the nicest in the carnival.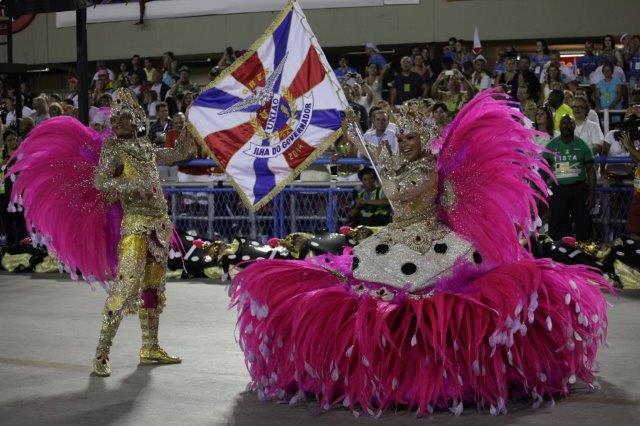 History
União da Ilha do Governador was founded in March 07, 1953 and it is known for its irreverent themes. The school was conceptualized when Maurício Gazelle and Quincas Orphylo watched the exhibition of small schools of samba and blocks of various districts and decided that Cacuia should also have its representative samba school. União da Ilha is based in Estrada do Galeão in the neighborhood of Cacuia.
Identity
Their colors of União da Ilha do Governador are blue, red and white and a white eagle can be seen in the centre of its flag above a crest and shield. The depicted eagle is this school's reverent symbol.
Performance
Even though it has not won any titles in the Special Group throughout its history, the school has made a strong impression with memorable themes and sambas such Domingo in 1977 and Good, Nice and Cheap, in 1980. In fact União da Ilha's best result was when it won a second place in the
Sambadrome
contest for Good, Nice and Cheap which perhaps led to the school's current image. And Today is the day of 1982, is one of the most famous and recorded sambas in the history of Carnival. The last good performance in 1994 was with the theme Abrakadabra where it finished fourth. Since then, it has pulled off good placements.
Carnival Information 2018
| Group | Day of the Parade | Parade Time |
| --- | --- | --- |
| Special Group | February 12 | 00:10 |
Theme:
"Brasil Bom de Boca"
Composer:
Ginho, Marcelão da Ilha, Flavinho Queiroga, Junior, Thiago Caldas, John Bahiense, André de Souza e Professor Hugo.
Interpreter:
Ito Melodia
Samba Enredo
Põe lenha no fogãoo aroma está no arexala nossa poesiacaravelas a bailar no marchegam pra miscigenar essa foliaeita tempero bom, eu quero provarderrama o caldo de lá nos frutos de cáeita tempero bom, eu quero provarnas terras tupiniquins o que se planta dae tupã abençoou esse sabor da aldeiaque incendeia, aguça o paladarmergulhei no gosto que marelariqueza milenarfogo aceso no terreiro das yabá ô ôna mistura a herança dos meus ancestraisbota agua no feijão que o samba esquentouôôôô na batia do tambore na fartura do meu tabuleiroo grão é vida e mostra o seu valorsinto o cheiro de cravo e canelavó quituteira mexendo a panelada nossa terra um gostinho sem igualpro seu prazer, doce cacauilha prepara a mesa que é dia de festaservimos um banquete à fantasiauma receita impossível de esquecerduas pitadas de amor, eu e vocêjuntando a fome com a vontade de vencervem provar o sabor, desse meu carnavaleu sou a ilha, sou o prato principalvou deixar água na bocaprovocar uma vontade louca
It's Carnival Time
Enjoy specials deals for Rio Carnival 2019