Unidos da Tijuca
Unidos da Tijuca originated in the slums of Tijuca
Brazil's third oldest samba school Unidos da Tijuca
samba school
is renowned for its niche since half a century. They gained worldwide fame for being the first group to present dancers mounted on floats, creating what are known as "human sculptures" in the carnival's
parade
at the
Sambadrome
. This samba school is known for its best drum segment in Rio, locally called Pura Cadencia. All these developments led to Unidos da Tijuca's joining the elite guild of samba schools.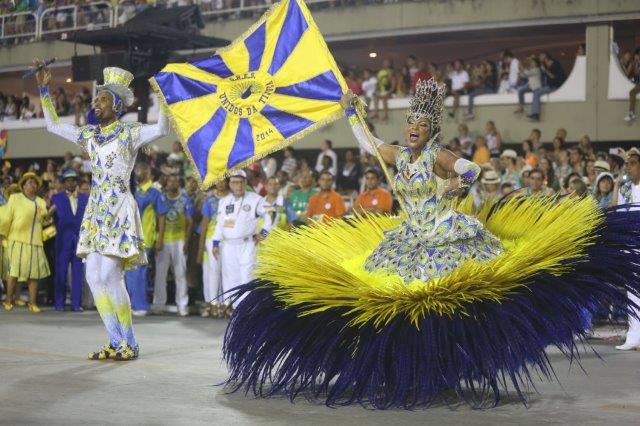 History
Situated in Rio de Janeiro's Barra de Tijuca region, the samba group Unidos da Tijuca was conceptualized in 1931 on December 31st and has been a stupendous force in the history of the samba Carnival. It was founded with the aim of defending the roots of Brazil's traditional folklore and to honor its multi-cultural background as well as to protest against issues.
Identity
Unidos da Tijuca's colors gold yellow and blue along with the symbol of the royal peacock help this outstanding school identify themselves with pride and glory. The color combination gold and blue was chosen to bring beauty and splendor to the banner that represents the entire school.
Performance
Unidos da Tijuca has been synonymous with bravado and innovation. They are touted as the first samba group to present glides and wings in carnival parade
costumes
in addition to being the first to record a samba theme-plot in vinyl. Also it is the only school paying homage to Brazil's background as an erstwhile Portuguese colony. The school has evolved immensely in terms of professionalism and structure coming second twice in the last five years. Unidos da Tijuca, like most Rio de Janeiro samba schools, faced a difficult period and not only did it survive it came out stronger. Today its Samba-
rehearsals
are also extremely sought-after in Rio.
Carnival Information 2018
| Group | Day of the Parade | Parade Time |
| --- | --- | --- |
| Special Group | February 12 | 22:00 |
Theme:
"Um Coração Urbano: Miguel, o Arcanjo das Artes, Saúda o Povo e Pede Passagem"
Composer:
Totonho, Mart'Nalia, Dudu, Marcelinho Moreira e Fadico.
Interpreter:
Tinga
Samba Enredo
O grande espetáculo vai começarprepare o seu coraçãona ilha encantada a lembrançano reino dos mares, a inspiraçãoum príncipe, um sonhadorgênio das artes, seu grande amorespelho de "clara" sabedoriaa escrita lhe fascinoufez do trabalho a sua vidaarcanjo do riso, poeta do humorquando a luz acender, o céu clarearo morro desce pra vê-lo brilharquantas emoções a proporcionaroh mestre da arte de contracenaré lindo ver seu brilhantismo em tantas criaçõesroteiros, personagens, portal de grandes tentaçõeso carnaval, um "toma lá da cá" de gente bambaque tira o "pé na cova" quando sambapartilha essa alegria na sapucaí"sai de baixo" chegou a hora é a vez do povo do borelem forma de samba, a nossa homenagem à você migueltijuca escola de vida, és minha paixãoas lágrimas de outrora já não rolam maisse rolarem é de emoção!O povo do samba chamoue fez de você um poema de amorna minha bandeira azul e amarealmais um estrela miguel falabella
It's Carnival Time
Enjoy specials deals for Rio Carnival 2019