Lagoa
Lagoa is the ultimate leisure neighborhood
Lagoa is a scenic neighborhood developed around a lagoon that empties into the ocean. This is the ultimate leisure neighborhood which is perfect for relaxation and some wholesome family fun. You can grab a snack at the waterside kiosks, go for a walk on the pathway around the lagoon or listen to live music by the waterside. Lagoa also has a number of country clubs, bars, restaurants and nightclubs for those who love to party. People who enjoy sports will be delighted with the many opportunities for activities like cycling, horseback riding, roller skating, volleyball, basketball, soccer, tennis, nautical sports and much more.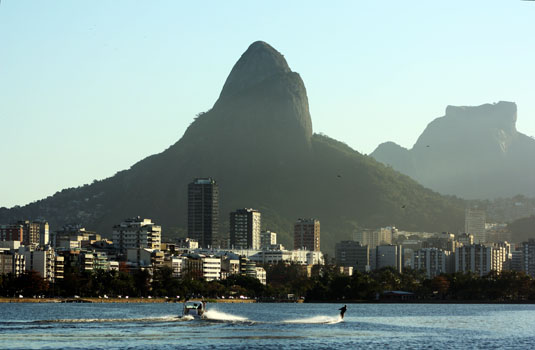 History
The lagoon in the area was originally known as Sacopenapã, meaning "way of the socó birds" in native dialect. In the XVI century it was surrounded by a large sugarcane farm named Engenho d'El Rei but was later purchased by Rodrigo de Freitas in the XVII century. The Royal Gunpowder Factory was installed here in 1808 by Emperor Dom João XVI. The arrival of the streetcar marked the development of this area in the 19th century. Lagoa Rodrigo de Freitas was recently declared a national landmark by the Historical Patrimony.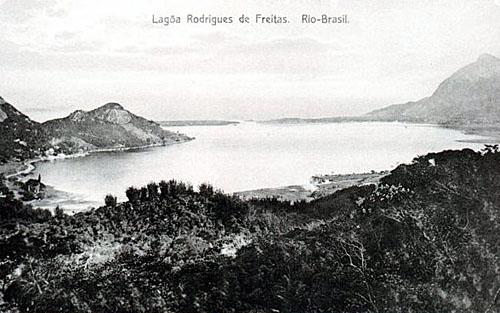 Geography
This neighborhood is surrounded by Copacanbana, Ipanema, Leblon, Gavea and Jardim Botanico. The Rebouças Tunnel connects Lagoa to Downtown and the International Airport. The Lagoa-Barra freeway can be used to reach São Conrado and Barra.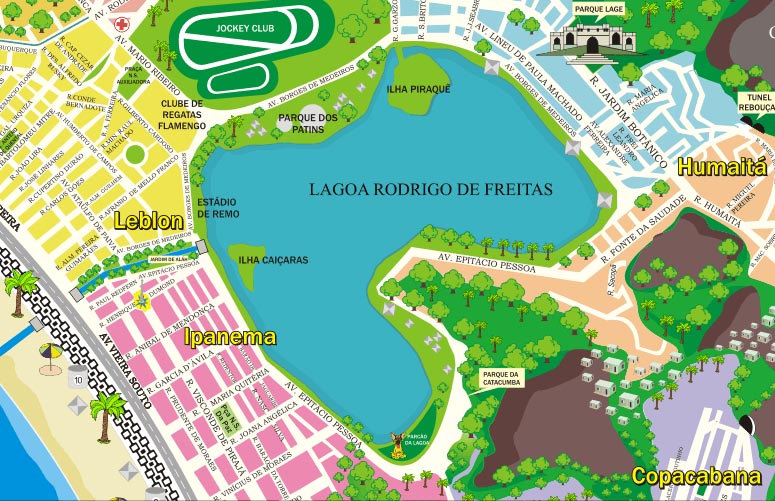 Highlights
The lake is pretty shallow with a depth of 4.3 meters. However, it is not fit for swimming. It harbors plenty of fish and attracts hordes of birds as well. It is linked by Alah's Gardens Canal to the Atlantic Ocean. The lane around Lagoa is 7.5 kms, perfect for a lazy evening walk.
Parque do Cantagalo
Right across Parque da Catacumba lies Parque do Cantagalo. This park features tennis, basketball, baseball, volleyball and soccer courts, two workout stations and four playgrounds for children making it a much livelier place. You can also rent a bicycle to ride along the park or embark on a leisurely pedal boat ride. The park also features gourmet kiosks for replenishment after all that activity. The unique igloo shaped gas station adds to the charm of the place.
Parque dos Patins
Parque dos Patins is the largest park in Lagoa and lies across the Jockey Club. It features a large roller skate rink, a playground for children, gourmet food kiosks and areas for bicycle rides, pedal boat rides and even helicopter rides.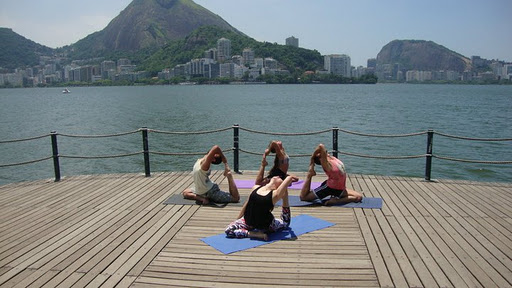 Parque da Catacumba
The Parque da Catacumba is the perfect place to relax and take in the natural scenery of Lagoa. The park was opened in 1979 and holds the distinction of being the first open air sculpture garden in Brazil. It occupies an area of 30,000 square meters on Morro dos Cabritos and features works by artists including Sérgio Camargo, Franz Weissman and Antonio Manuel. If you are lucky, you can also catch a performance with some live music at the park, which is also a favorite place for jam sessions.
It's Carnival Time
Enjoy specials deals for Rio Carnival 2023