Cultural Tours
Carioca Culture in Rio de Janeiro
Every visitor comes to Rio de Janeiro with the intention of enjoying the country's rich culture. The city of Rio de Janeiro is a highly cultured city with an eclectic mix of cultures and a population that has given shape to various forms of artistic expression. This is evident from the lifestyle of Rio's residents, especially when it comes to the
Rio Carnival festival
. Food, music, dance – there can't be a better combination that only Rio de Janeiro has the distinction to offer.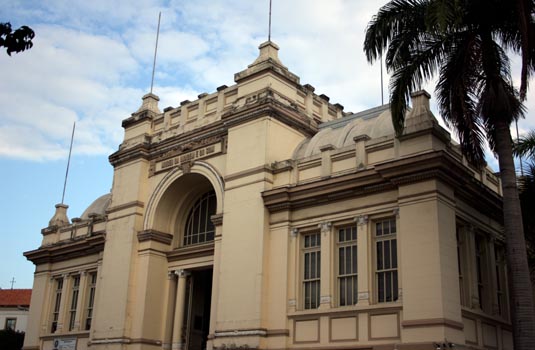 What to Expect on a Cultural Tour
There are tour operators that are specialized in historical and cultural tours of Rio for visitors to get a closer insight of Brazilian culture and Carioca traditions. Historical walking tours, Visits to museums and art galleries, are among the important elements of a cultural tour. The city is home to many art galleries, cultural centers and venues for performing arts. The Centro Cultural Banco do Brasil which is located on Rua Primeiro de Marco 66, in
downtown
is the main venue for exhibitions, live concerts, plays and cultural films.
A Colonial Tour
Rio has plenty of magnificent architectural buildings from the time of the Portuguese, which includes the Imperial Palace, São Bento Church, statue of
Christ the Redeemer
,
Lapa Arch
and Cathedral of São Sebastião, to name a few. You could spend hours admiring some of the best baroque, rococo and neo-classical architecture. The picturesque neighborhood of
Santa Teresa
is also a great place to visit on a cultural tour.Niteroi is home to the oldest fortress in South America and the famous
Contemporary Art Museum
designed by the famous architect Oscar Niemeyer, which is considered one of the seven wonders of modern architecture.Rio de Janeiro's first and most important square is Praça XV, located in the center of the city's old waterfront. This is the place where governors and emperors resided, and the site where the Brazilian republic was proclaimed on November 15, 1889. Notable sights around the square include the Paço Imperial, the Palácio Tiradentes, and, on the north side of the square, the Arco do Teles. Walk through this unobtrusive old archway, and you come to a tiny remnant of old colonial Rio, complete with narrow shop fronts and cobblestone streets. The area's main street, the Travessa do Comércio, transforms into a lively outdoor patio/pub in the evenings.Forming the back edge of Praça XV is Rua Primeiro de Março, a busy commercial street with a number of churches, including the Ordem Terceiro do Carmo, the Santa Cruz dos Militares, and near the far end of the street the massive yet lovely Nossa Senhora de Candelária.
Experiencing Afro-Brazilian Culture
Afro-Brazilians have a strong influence on Rio's culture. A trip to the afro-Brazilian museum will give you an introspective view of the African descendants and their cultural heritage during colonial rule.On a cultural tour, a visit to the favelas is essential if you want to understand the city's contrasts and paradoxes. The favelas or shantytowns are where over thirty percent of Rio de Janeiro's population lives.
It's Carnival Time
Enjoy specials deals for Rio Carnival 2019