Ipanema Beach
Ipanema beach – the beach inspired poets and artists
Ipanema beach is bordered by Arpoador Beach on one end and Leblon Beach on the other end. This beach is considered one of the main centers of activity for the city of Rio. One of the most expensive places to live, the neighborhood is full of wealthy residents.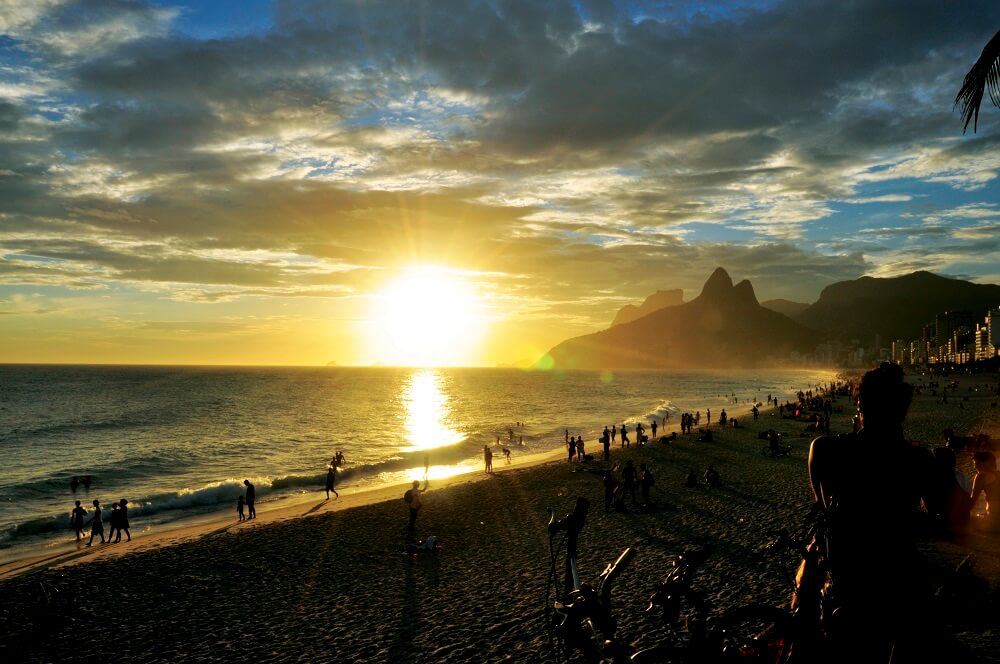 Around the Beach
Considered the "little Paris" of Rio it is renowned for its avant-garde galleries, bookstores and movie theatres. Stop in at H. Stern, one of the most popular jewelry stores in the area, and take a tour of their museum. Not only is it free but you receive a little box of semi-precious and precious stones as a gift. Every Sunday the Hippie Fair is held with vendors selling everything from wooden dolls to swizzle sticks topped with parrots. Garcia D'Avila street has some of the best brands of the city. 
Where to Eat & Drink
If you want to try genuine Brazilian feijoada, for the best sushi, for some of the best and most expensive churrasco, you can go to Ipanema. Have an after dinner drink at Garota de Ipanema at the corner of Rua Vinicius de Moraes, where the song "Girl from Ipanema" was written. One of the best tips for Ipanema is the Acarajé. It is a croquette, fried in Dendê (Palm) oil, filled with shrimp (spicy!). It can be found in the Hippie fair on Sundays at General Osorio Square.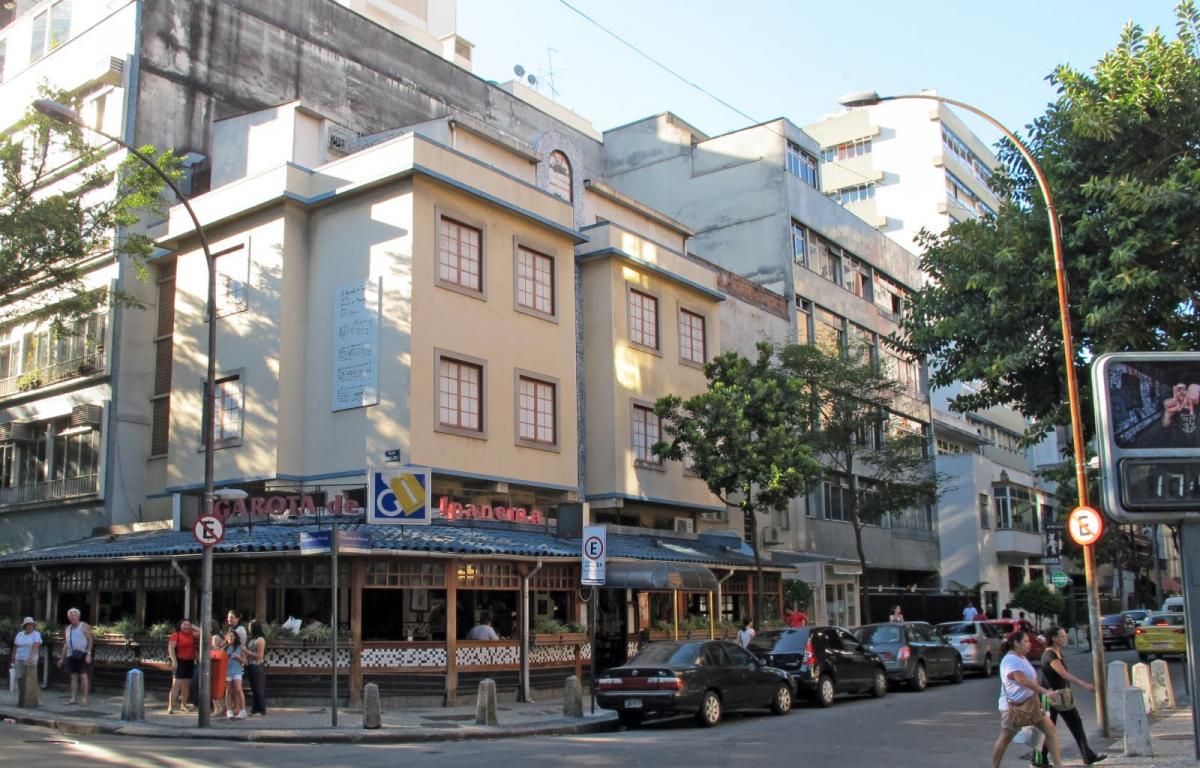 Sports and what to see
Frescobol is a sensantion among cariocas at the beach, it's like tennis, it's played by two people with racquets, not net and you are not to drop the ball. Beach soccer and volleyball are favorite sports that are promoted along Ipanema Beach.  If you go to Ipanema don't miss watching it and if you feel like participating also, it will be a pleasure for Cariocas to have a tourist playing with them.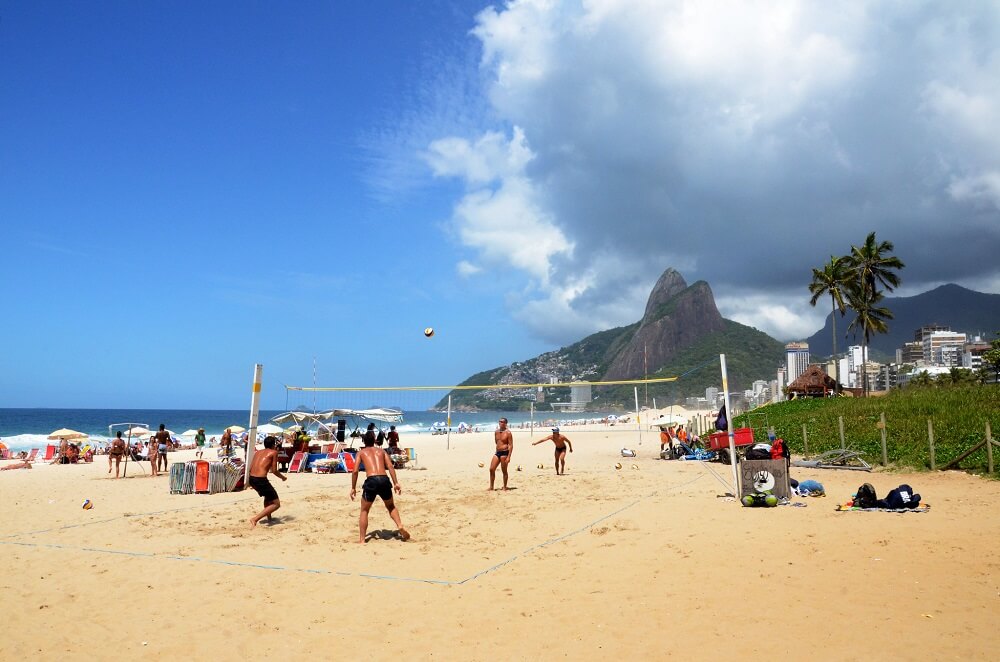 In front of Rua Vinicius de Moraes the beach goers can enjoy the sunset on the 72 square meters viewpoint installed on the beach. The gazebo is an observation point for the Cagarras Island, also has a solar-powered shower to cool off.
Ipanema Farme
Ipanema Farme is the gay beach of Rio de Janeiro. Located next to Rua Farme de Amoedo, it is frequented by young, muscle bound gay men. However, everyone is welcome and affectionate behavior is accepted.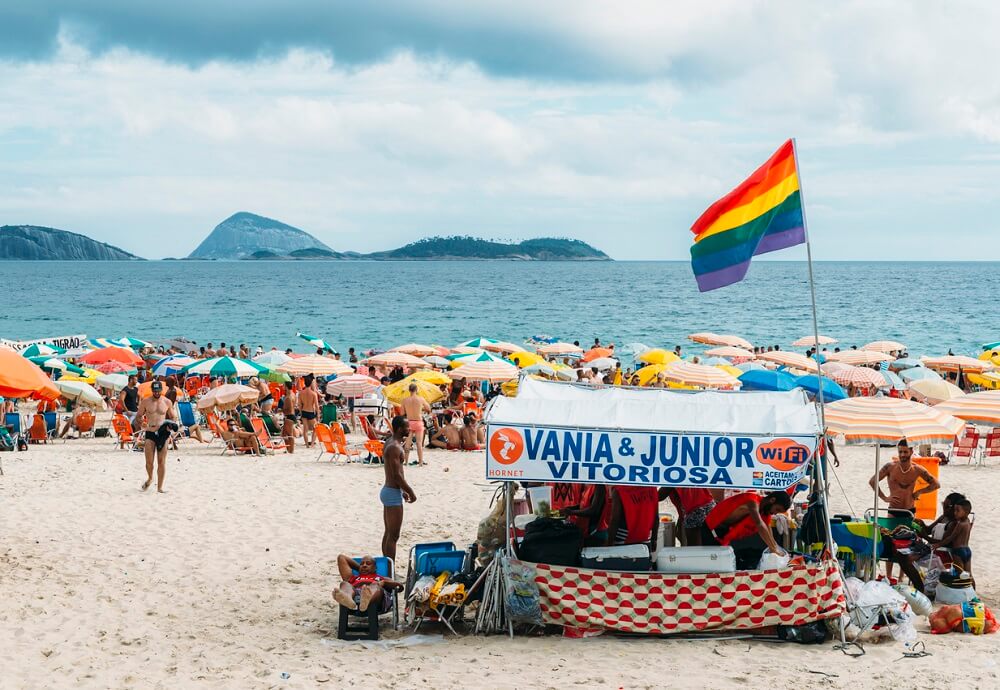 Who's Who
Aside from gays and lesbians Ipanema Farme attracts other visitors. TV stars, single women, families and heterosexual couples all enjoy this stretch of beach. It is quite open and accepting of everyone. To blend in with the locals visitor need to remember to wear their square cut Speedo and Havianas.
Doing Business
As with most other beaches, there are vendors selling everything from chairs to coconut water. Many of these vendors are very supportive of their clientele flying the rainbow flag, a symbol of the gay community. Promoters also walk the beach handing out flyers to various nightclubs, bars and gay parties. There are even masseuses who walk the beach offering their services. Needless to say they are very popular with the beach goers. 
It's Carnival Time
Enjoy specials deals for Rio Carnival 2023