Buying Your Carnival Ticket Safely
Ensure that you purchase your tickets with a reliable ticket provider, easy to access once you are in Rio and, avoid counterfeit.
We know that travelling to Brazil to experience Rio Carnival may probably be the trip you've been dreaming of for a long time. In fact, Rio Carnival is really the biggest shown on earth and us at Bookers International, want you to live it to the fullest, taking home only good memories.
Nevertheless, it's important that you plan it right and safely, especially when purchasing your tickets to watch the parades at the Sambadrome. Buying with us is your best bet. Seriously. Bookers International prides itself for its 21 years of Carnival Services in which we assisted more than 120,000 people with zero complaints. But if you are considering other travel resellers online, check our tips on how to avoid scammers and problems. We want you to have the trip of a lifetime!
Wherever he goes, it's just fun.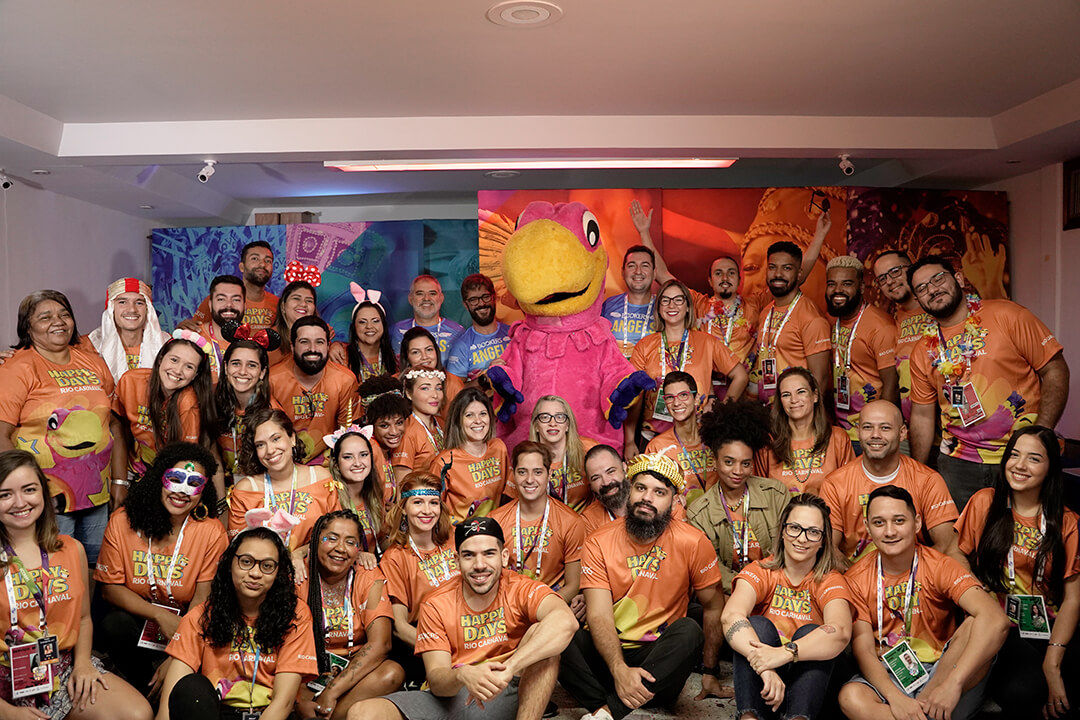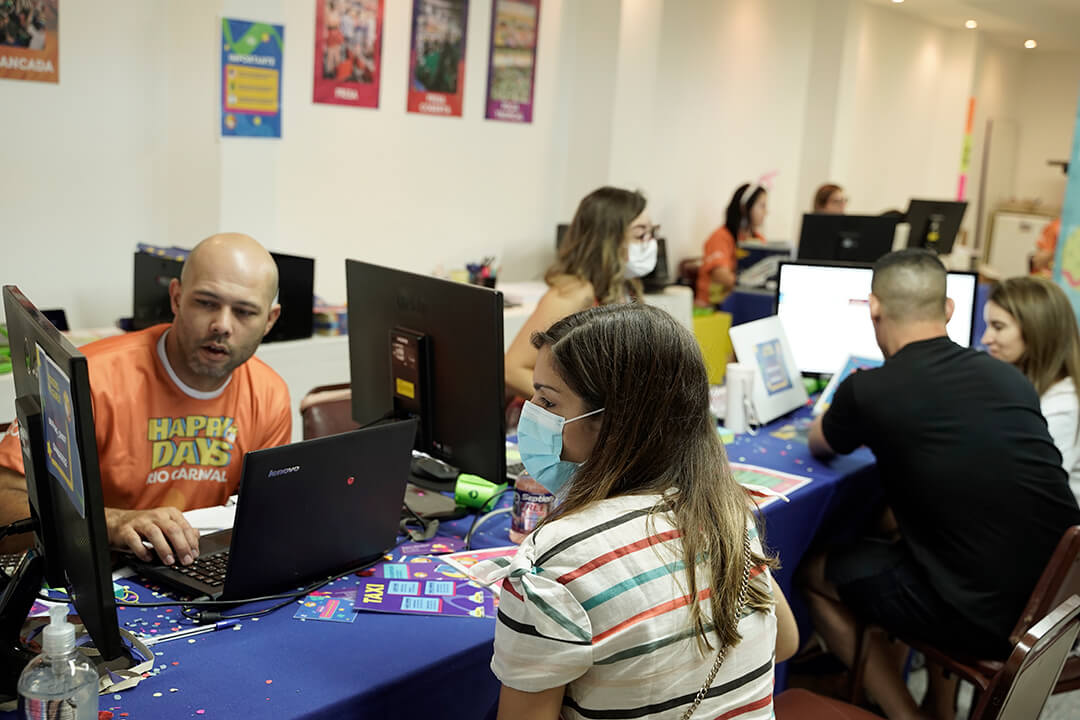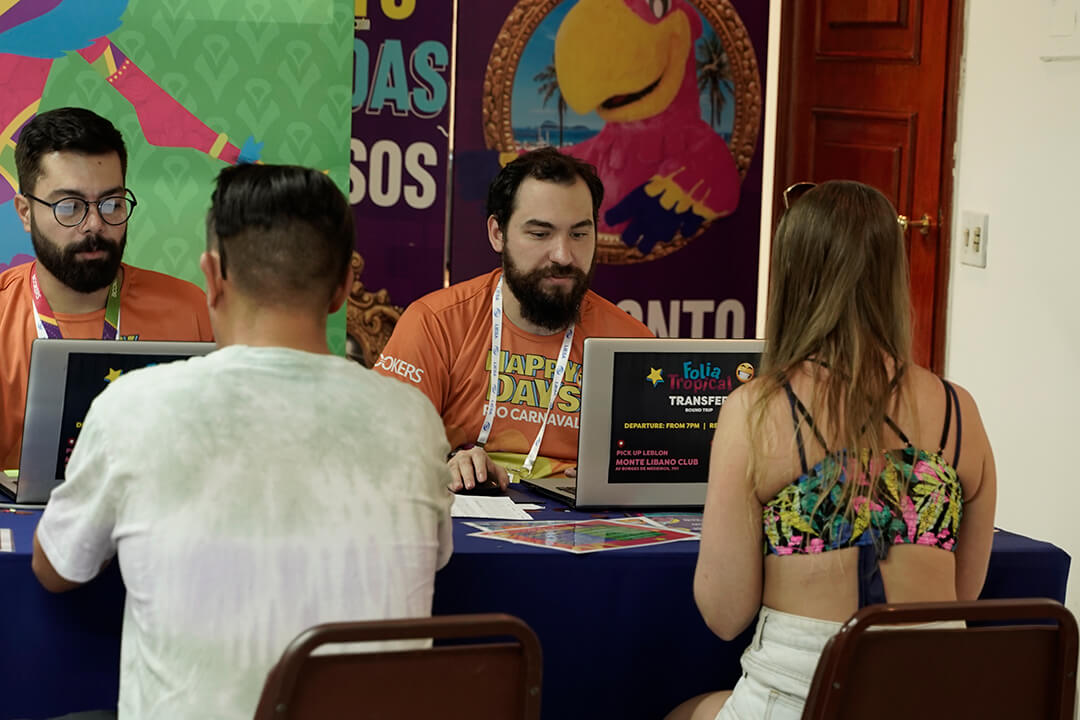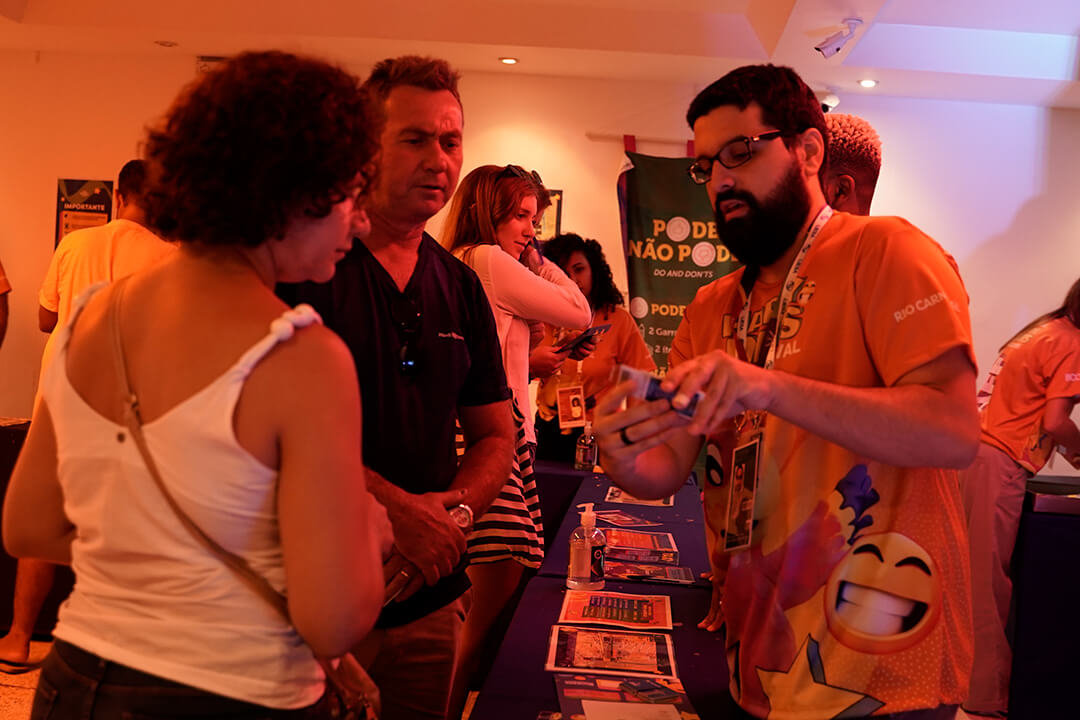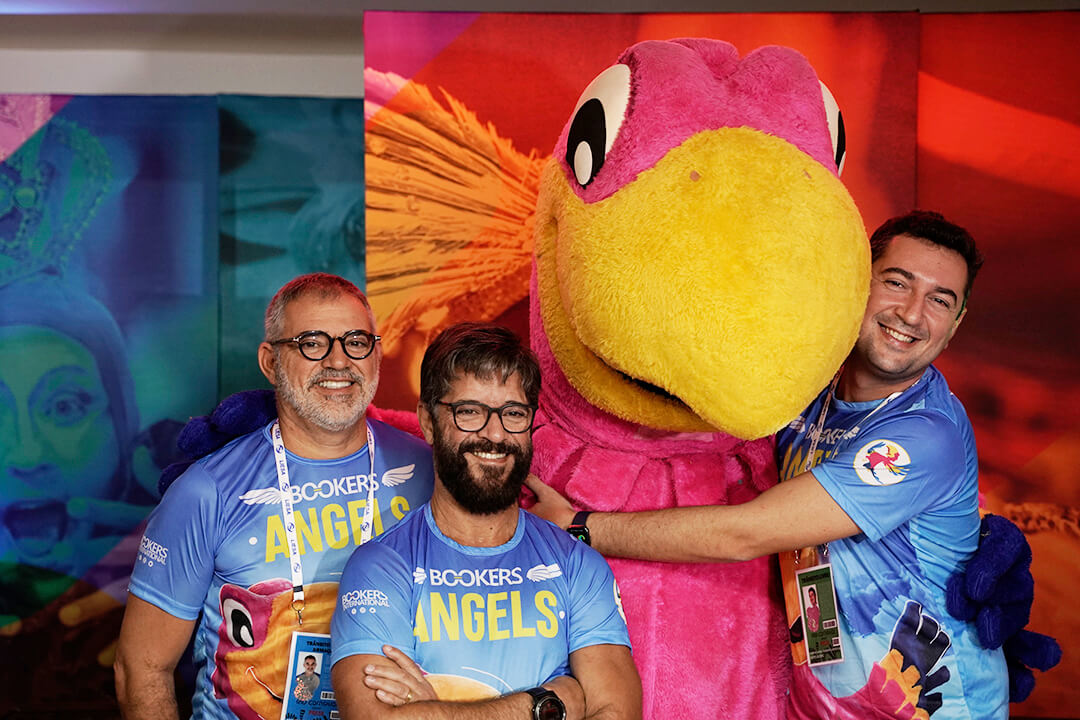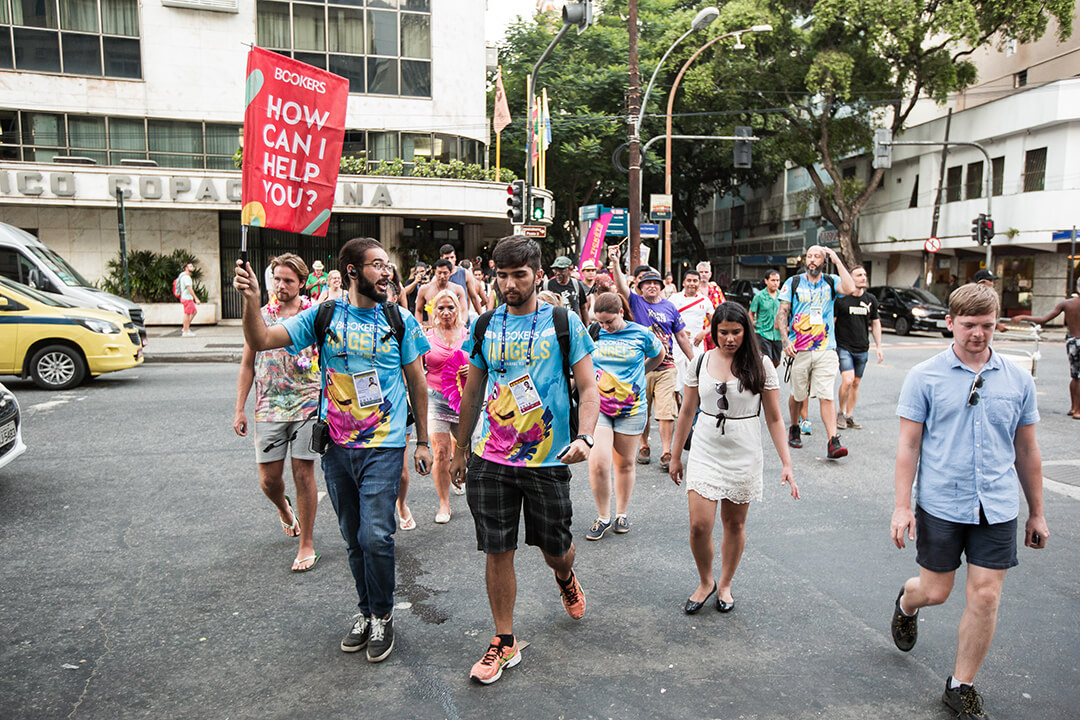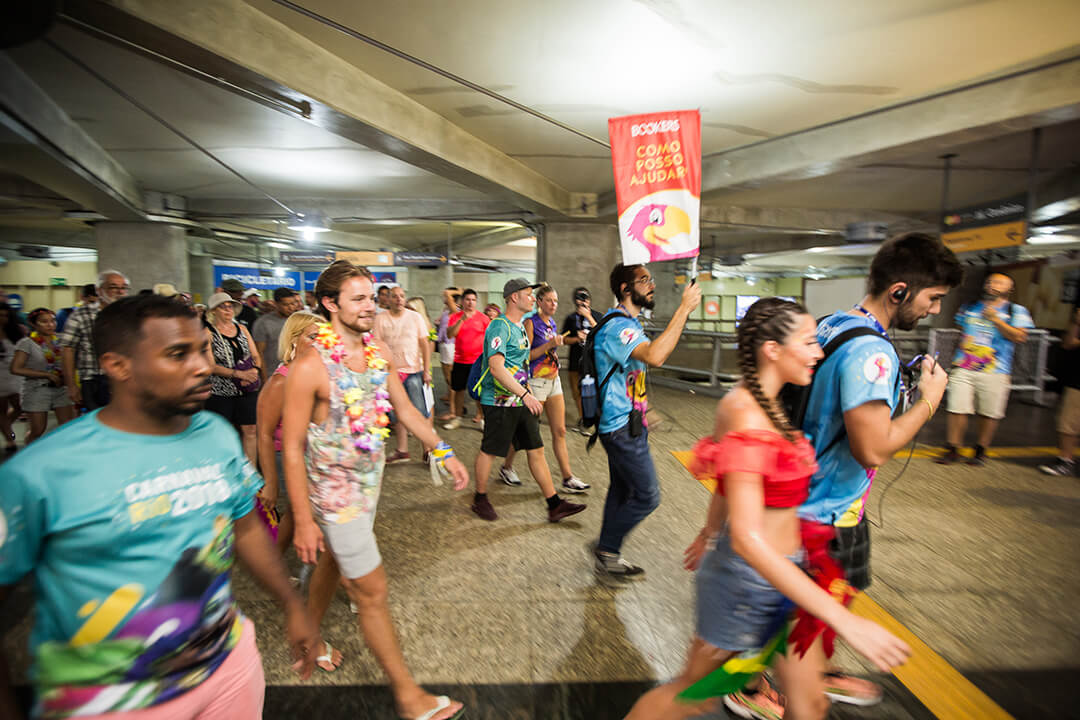 Here are the top 10 reasons why you should buy your ticket with Bookers International and its websites. Bookers is the best option and the one you can trust. Click on any of the reasons below to learn more about each one.
1
21+ years selling Rio Carnival Tickets with Zero Complaints

Bookers International and Bookers Brazil, our Brazilian partner, have been offering Rio Carnival related products for over 21 years, with zero complaints online.
Before booking, checking for complaints at sites like tripadvisor.com, bbb.org or even reclameaqui.com.br in Brazil
2
The world's #1 online agency for Rio Carnival Tickets

Bookers offers carnival tickets and useful information about the event, through its more than 10 sites/languages including Riocarnaval.org, Rio.com, CarnivalBookers.com, Carnavales-Brasil.com, Rio-Carnaval.com, and CamaroteCarnaval.com.
You will always get answered! Our experts speak English, Spanish, French, Italian and, of course, Portuguese. But feel free to send us a message on your language. We will use the google translator tool and get it done!
3
Accredited by ABAV and Cadastur, a government agency

Bookers Brazil is affiliated to ABAV, the Association of Brazilian travel Agencies. Bookers is also accredited by Cadastur, a government agency run by the Minister of Tourism in Brazil.
Before you book your ticket, check the credentials of your seller. They must run a business that is "active" and be accredited by Cadastur and affiliated to ABAV.
4
Buy your Ticket Easy, Quick and Secure.

Booking online is available 24/7. Fully secured transactions with your data encrypted thanks to the SSL system. Your credit card details are never kept after processing your transaction. Your order and your personal data cannot just be given to any website online.

Make sure it runs a secure site, that it is "https:"and complies with the Consumer Data Protection. Booking your ticket with us is an easy and pleasant experience, with many payment methods and deliver/pickup options for you to choose from.
Check if your ticket reseller offers a "https" website and if your personal data is encrypted before travelling the internet. Do not accept to give your information over the phone or though WhatsApp.
5
Awesome customer service with experts speaking several languages

Bookers counts with an experienced team of Carnival experts, able to help you with any questions you may have, anytime. One of them probably speaks your language.
Before you book, try sending a message to the agency, see if they answer promptly and analyze the quality of the answer you get.
6
WhatsApp, Chat online, Phone or E-mail available and responsive

Bookers makes available many communication channels for you to choose from, from WhatsApp to a phone call, you will get to speak to us and have your question/issue solved. For sure.
Learn what channels can you communicate with the travel agent you are booking your tickets with. What if you get no response from them when you are in Rio?
7
Hospitality Desk in Copacabana with more than 70 Experts at your service

Bookers Hospitality Desk makes it convenient for you to pick up your tickets. Located right in the middle of Copacabana, easily accessed by subway, bus or even by foot. Our team of 70+ agents can help you in person with any issues/questions/upgrades from a week before the event thru the winners' parade, the following Saturday.
Check if the site is for real and the company is in good stands. Do some research. Scams initiate with a fake address and phones that don't answer. Google can show you the building. You can check if their CNPJ number (like EIN Number in US) is active here https://cnpj.biz/
8
Exclusive Assistance at Sambadrome with Bookers Angels all Parading Nights

Check if the ticket reseller helps at the Sambadrome and a hospitality desk anywhere in the tourist area.
Before you book, try sending a message to the agency, see if they answer promptly and analyze the quality of the answer you get.
9
Money Back guarantee until December

Bookers International offers special cancellation conditions. Tickets are refundable for 100% of the ticket value, for all cancel requests received by December 31st, 2022. No questions asked!
What are the terms and conditions the ticket reseller offers you. Read them carefully, understand your risks.
10
We offer Authentic Tickets Guarantee.

Bookers International is proud of its 21 years of Rio Carnival, assisting customers from all over the world with their travel needs. While we guarantee to deliver what we promise, we know that counterfeit tickets are on the rise, especially in the big events.

Scammers use social media and websites that appear legitimate to advertise and sell tickets they will never have in hands. Some print-at-home tickets are sold online and on the day of the event, purchasers realized they have been scammed, left with a useless ticket and without any option of a refund.
Buy your ticket from Bookers International and make sure you will have a Rio Carnival experience you will never forget. In Bookers you can trust.
It's Carnival Time
Enjoy specials deals for Rio Carnival 2023