Dates and hours of operation of our Carnival Hospitality Desk
Bookers International Carnival Hospitality Desk will be functioning at the Hotel Atlantico Copacabana, from February 5th to February 17th, 2024, as per the schedule below: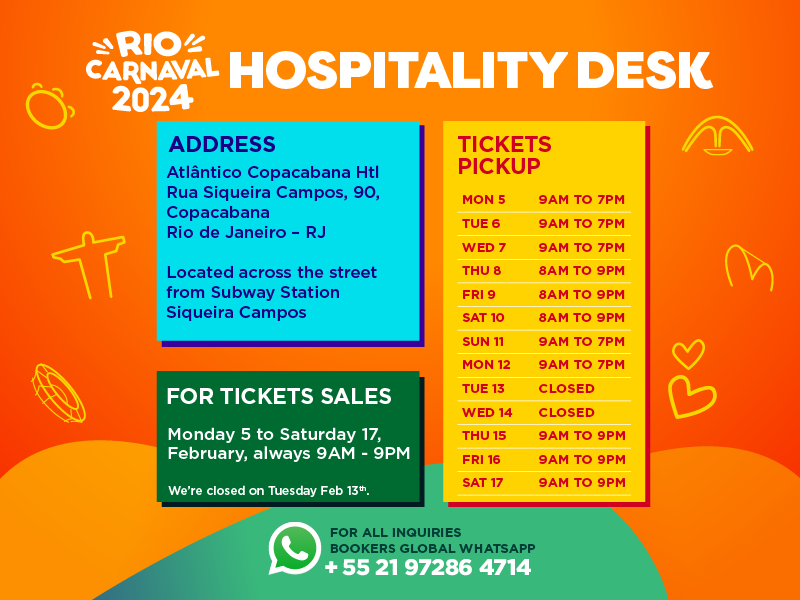 Our Carnival Hospitality Desk is strategically located in the middle of Copacabana, in front of the subway station Siqueira Campos, a block away from bus stations crossing Copacabana with buses to and from Ipanema, Leblon, and Downtown Mall in Barra da Tijuca, Rio de Janeiro.
Services
Exchange your Ticket e-Vouchers for real Balls and Parade Tickets;
Upgrade your Carnival tickets to a better seat, and location;
Get information on your roundtrip transfers to the Sambodromo;
Get information and tips on anything about Rio de Janeiro and Carnival.


If you haven't bought your tickets yet, don't worry, our sales team will be in the same location, with tickets for last-minute revelers.
Important details for picking up your tickets – Check-list
Take your ticket voucher
Bring to present a valid photo ID
Bring the holder's original card used for the purchase


If you are not the ticket holder, you must present the authorization form, a copy of the cardholder's card used in the Purchase, and a copy of your ID. In case you have not already done this via email, as instructed when purchasing your tickets.
Address
Atlântico Copacabana Hotel
Rua Siqueira Campos, 90, Copacabana
Rio de Janeiro – RJ 22031-070
Look for us at Meeting Room Imperial at ground floor
Operation Hours and Days
During Carnival:
Monday Feb 05th to Wednesday Feb 08th, 2024
9 AM to 7 PM
Thursday Feb 09th to Saturday Feb 10th, 2024
8 AM to 9 PM
Sunday Feb 11th to Monday Feb 12th, 2024
9 AM to 7 PM

Champion's Weekend:
Thursday Feb 15th to Saturday February 17th, 2024
9 AM to 9 PM

Directions

Walk to the Desk
Most people stay in Copacabana during Carnival. This is where the biggest concentration of hotels and hostels are located and also Rio's biggest neighborhood. If you are staying in Copacabana, you may even walk to our Hospitality Desk. It's right in the middle of the neighborhood, at Rua Siqueira Campos, four blocks far from the Avenida Atlantica.
Take a Bus
All buses going thru Copacabana will leave you close to the corner of Siqueira Campos and Avenida Nossa Senhora de Copacabana. It's a 2 block short walk to the Hotel.
Any buses going to or from Ipanema will stop at a Bus Station close to Rua Siqueira Campos as well. Look for the subway Station of the same name and you will find the Hotel across the street from it.
Reach it by Taxi
A cab ride to the Hotel from anywhere in Copacabana will not surpass the R$ 20 Brazilian Reais each way.
Take the Subway
Subway Station Siqueira Campos is across the street from the hotel.