Churrascaria & Rodizio
Rodizio is a very popular style of dining in Brazil. One type of rodízio restaurant is a churrascaria that serves meat. There are other types of rodizio restaurants serving pizza or pasta.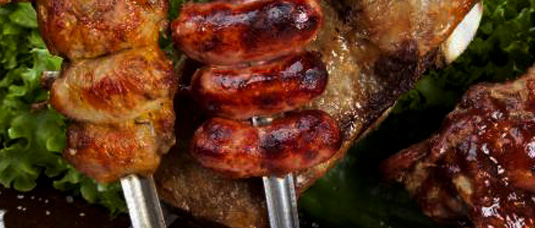 Rodízio Dining
Dining rodízio style means paying a fixed price for your meal. Once seated, waiters circle the dining room offering food to the diners. There is no limit as to how much a diner can consume. Simply eat until your pant seams are ready to split!
Rodízio Churrascaria Style
Churrascaria is a form of rodízio dining. In this type of restaurant waiters carry hot skewers of cooked meat around the dining room and diners signal to the server with a green card side up if they are interested in a particular cut. The meat is then sliced right off the skewer. Once again the diner is welcome to eat as much as they desire and place the card red side up when full. Often these restaurants also have buffets with side dishes such as salads, collard greens, black beans and rice, fried potatoes and more. Or, the waiter might bring a small selection of side dishes right to the table.
Types of Churrascaria
There are several types of meats offered at churrascaria restaurants. Fowl can consist of turkey wrapped in bacon, chicken hearts or dark meat chicken cooked on a grill. Beef entrees include filet mignon wrapped in bacon, sirloin, roast beef, rump and short ribs. Pork is another favorite and offerings might be pork ribs or pork sausage. Other options include lamb and grilled bananas or pineapple.
Favorite Churrascaria Restaurants
Porcão is one of the best churrascaria restaurants in Rio. They offer some of the tastiest cuts of beef as well as a huge salad bar and side dishes that include mushrooms and local cheeses.Carretão Restaurants are located in Ipanema and Copacabana. The prices are very reasonable and while the selection is not as extensive as some of the more expensive churrascarias the meat is of excellent quality. Go after 10pm when the tables fill and the restaurants take on a party atmosphere It can be quite fun. Marius Carnes is probably the most expensive churrascaria in Rio. Located in Copacabana on Av. Atlantica it is quite popular with the tourists.Plataforma, in Leblon is another favorite tourist churrascaria with a live Samba show after dinner.
Speaking Churrascaria
It is best to know a few important words in Portuguese before attending one of these restaurants. Rare in Portuguese is "mal passado", medium rare is "a ponto para mal". If you like your meat cooked more, medium is "ao ponto", medium well is "ao ponto para bem" and well done is "bem passado".
Other Kind of Rodízios
If you want to try appetizers go to La Maison in Copacabana. For thin pancakes, the Doce Delícia, with more than 20 kinds of sweet and savory crepes is a must. If you prefer pizza, on Wednesdays there is rodízio at Pizza Hut and there is also the Fazendola at Praça General Osorio in Ipanema.
It's Carnival Time
Enjoy specials deals for Rio Carnival 2019